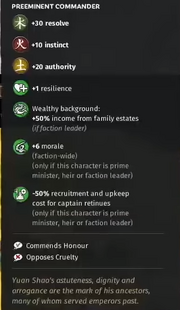 Background is a gameplay mechanic introduced in Total War: Three Kingdoms. Backgrounds are epithets that works like traits which grants special bonus to characters. Legendary characters often have unique and powerful background.
The character's background has significant impact on his attributes and also grants unique bonus when he is either faction leader, faction heir, or Prime Minister. When holding these positions, these effects will be spread to the entire faction, so deciding which characters to place in these roles is vital for your campaign strategy.
List of Backgrounds
Edit
Unique epithets for special character
Edit
Guan Yu - God of War
Han Sui - Tireless insurgent
Liu Zhang - Proponent of Peace
Tao Qian - of the Sincere Jurisdiction
Unique epithets for generic character
Edit
Cai Mao - Competent Sailor
Cao Ren - Brave Hunter
Cao Ang - Prince Min
Cao Pi - Political Animal
Chen Gong - Master Magistrate
Cheng Pu - Bandit Killer
Gao Gan - Loyal Nephew
Gao Shun
Gongsun Du - The Warlike
Guo Huai
Guo Jia - Astute Advisor
Guo Si -
Han Fu - Diligent Agriculturist
Hangfu Song - Aged General
Hua Xiong - Fierce Beast
Huang Gai - Unreadable Warrior
Huang Zu - Ranged Ambusher
Jia Long - Short-sighted Peacekeeper
Jiang Wei - Budding Commander
Kong Zhou - Pure Conversationalist
Li Ru - Vicious Shadow
Ling Tong - Daring Errant
Liu Dai - Generous Attendant
Liu Yu - Prosperous Trader
Liu Yao - Welcoming Magistrate
Liu Xie - Former Emperor
Lu Fan - Go Master
Lu Meng - Late Scholar
Lu Su - Charitable Envoy
Lu Xun - Scholar General
Mi Zhu - Dependable Administrator
Pang De - White Horse General
Pang Tong - Fledgling Phoenix
Shi Xie - King Shi
Sun Qian - Upstanding Loyalist
Wang Lang - Ardent Educator
Wang Xiu - The Righteous Hero
Wen Chou - Fierce Firebrand
Wei Yan - Disobedient Tiger
Xu Shu - Disguised Diplomat
Xun You - Gentleman Attendant
Xun Yu - Hegemon's Aide
Yan Liang - Valiant Vanguard
Yu Jin - Enforcer of the Law
Zhang Chao - Flowing Calligrapher
Zhang He - Courageous General
Zhang Lu - Celestial Master
Zhang Yang - Ignored Warlord
Zhou Tai - Thousand Scar Man
Zhuge Jin - Bookish Scholar
Community content is available under
CC-BY-SA
unless otherwise noted.