Gongsun Zan is a playable and historical character featured in Total War: Three Kingdoms. Nicknamed The Ironfist General, He is the default leader and one of the Vanguard class heroes in his faction. Gongsun Zan's ultimate goal is to conquer the north of China and secure the title of emperor.
Gongsun Zan is heard like a clarion call above the chaos. He stands firm in his beliefs and is unafraid to do what he feels to be right. As defender of the dangerous fringes of the empire, Gongsun Zan believes that military precision must be observed in all things.
Gongsun Zan is the choice of expert militarists – he is a warrior without fear or restraint, but also a defensive master when the situation requires it. Bravery is his calling card, and if there's an obstacle he has to conquer, you'd better hope he's on your side.
Gongsun Zan is a traditional military-minded character, and his playstyle reflects this. Focusing on a militaristic approach to empire management, Gongsun Zan doesn't have access to administrators but instead has his civic matters overseen by the commanding generals of his armies – who also provide bonuses to the commanderies in which they're stationed.
Gongsun Zan himself provides two important bonuses as a faction leader. The first is a 50% reinforcement range bonus, meaning that his armies are more likely to reinforce each other in all situations. This makes him particularly strong when he's on the defensive, and synergises well with the civic bonuses gained from his commanding generals.
The second is his shock cavalry, which are more heavily armoured compared with other factions' and as such much more durable in combat. However, both of these bonuses are specific to Gongsun Zan, meaning that they will both be lost should he fall and be replaced by his heir.
Pending for finalized Attributes and traits data
Pending for finalized skills data
Pending for finalized retinues data
Pending for finalized ancillary data

Gongsun Zan's starting position in Youbeiping Commandery is relatively secure. It can easily be turned into a stronghold – but breaking out of is no mean feat. Gongsun Zan's faction also benefits from the unique unit that is the white horse archer cavalry, which are the some of the most powerful horse archer units in-game and can be used for a number of potent strategies in battle.
Gongsun Zan's immediate rival is Liu Yu stationed to the west, posing a significant threat. It falls to the Gongsun Zan, Defender of the North, to defeat him and win control of the surrounding areas – the player need to unify the North before the chaos overtakes it. Meanwhile, the old neighbour Yuan Shao grows ever more powerful, and conflict with him is almost inevitable – unless player can find a way to negotiate with him and Han Fu and turn a historical enemy into an ally.
Gongsun Zan's initial focus should be securing a stronghold in the north. This could incorporate securing an alliance with Gongsun Du, but it also might be more efficient to subjugate Gongsun Du and dominate the area entirely. This could also be the opportunity to take out rival Liu Yu and lay claim to the Han Empire region.
Once this stronghold is established, player's progression will inevitably lead west – where conflict with Yuan Shao is very likely. As such, it might be wise to find allies beyond Yuan Shao's realm – such as his half-brother Yuan Shu, the cunning Cao Cao, or even the bandits in the mountains Zhang Yan or Zheng Jiang.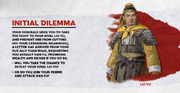 There is a conflict brewing between Gongsun Zan and the neighbouring Liu Yu, who adopted a very different and more lenient strategy when dealing with the Wuhuan and Xianbi peoples. Liu Yu is also supported by Dong Zhuo, and Gongsun Zan is resentful about Liu Yu's success. Additionally, Yuan Shao is asking Gongsun Zan for aid against Han Fu, meaning the player has the option to channel the resources towards this conflict in an attempt to appease to him.
Gongsun Zan is a military-minded man who sees ruling a state much like commanding an army.
He's long defended the northern territories against the barbarians along with Liu Yu, however a rivalry formed between them due to their differences in approach. Liu Yu favoured a more lenient policy towards the non-Han Wuhuan and Xianbi peoples, while Gongsun Zan's was far more hardline – he used white horses when dealing with the Wuhuan people as they considered them to be a holy animal and wouldn't attack him.
In the cacophony of rising chaos, Gongsun Zan is heard like a clarion call above the fray. He stands firm in his beliefs and is unafraid to do what he feels is right. A childhood friend of Liu Bei, Gongsun Zan earned a reputation as a fierce warrior, defending the empire against foreign foes beyond the border. Gongsun Zan rules his lands with the same martial mindset with which he governs his forces – on the dangerous fringes of the empire, military precision in all things must be observed.
Whichever allies he chooses, it remains to be seen whether Gongsun Zan can successfully seize the north and establish a dynastic line strong enough to see him become emperor.[1]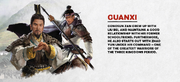 Gongsun Zan grew up with Liu Bei and maintains a good relationship with his former school-friend. Furthermore, he also starts out with Zhao Yun under his command, one of the greatest warriors of the three kingdoms period.
However, although rich in friends he has no children of his own, and so ensuring that he has a strong line of succession in place is an important part of Gongsun Zan's dynastic strategy.
The knight is a title that given by The Creative Assembly to Gongsun Zan after his playstyle, since cavalry is his specialty.
Despite sharing the same family name while also having adjacent territory, Gongsun Zan and Gongsun Du have no blood lineage.
Community content is available under
CC-BY-SA
unless otherwise noted.