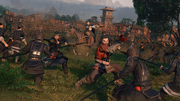 For Hero mechanics in other games, see Hero.
Hero is a gameplay mechanic in Total War: Three Kingdoms, heroes are unique units that can either act on their own with special abilities on the campaign map, or embed themselves within an army and fight alongside it. A Hero may carry a number of different equipment such as weapons, armors, or even his own fellow soldiers.
Heroes are divided into different classes available depending on the Subculture.
Base Game
Hero Class
Attribute
Wu Xing
Description
Champion
Resolve
Wood
Champions are duelists. These guys excel at taking out enemy heroes.
Vanguard
Instinct
Fire
Vanguards are the unit killers, and they're great at cutting their way through tons of common soldiers.
Strategist
Cunning
Water
Strategists are not great in combat but can debuff enemies and provide extra formations for player's troops. They also provide bonus to ranged units.
Commander
Authority
Earth
Commander are the more 'classic' Total War style general. They can fight competently (though not as well as Champions, Vanguards and Sentinels) and are great for buffing player's troops.
Sentinel
Expertise
Metal
Sentinels are your best bet when it comes to tying down enemies, they can last for ages in combat with either regular troops, or heroes.[1]
Yellow Turban Rebellion
Hero Class
Attribute
Virtue
Description
Healer
Compassion
Veteran
Frugality
Scholar
Humility
Community content is available under
CC-BY-SA
unless otherwise noted.