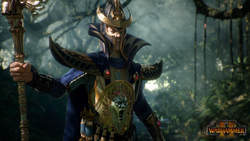 High Elves are a playable faction in Total War: Warhammer II.
They stagger their enemy with masterful archery on approach, tar-pitting them into a punishing melee, then counterattacking with elemental flying monsters. This ancient highborn race is led by Prince Tyrion and features the following units:
Pheonix and Frostheart variant: fire and ice working in perfect tandem to decimate enemy forces
The Dragon Princes of Caledor: top-tier shock cavalry clad in dragon armour, making them immune to fire
The immensely-armoured Pheonix Guard: standing ready to strike down the largest beasts that the Lizardmen have to offer.
Community content is available under
CC-BY-SA
unless otherwise noted.