Kong Rong is a playable and historical character featured in Total War: Three Kingdoms. Nicknamed The Master Scholar, he is the default leader and one of the Strategist class heroes in his faction.
Kong Rong earnestly believes that the bureaucracy of China can only succeed through the support of education. Focusing on wisdom and learning, Kong Rong tries to encourage prosperity through knowledge and insight to better the people and the economy.
Kong Rong is the choice of perceptive and sharp minds. He is the perfect hero for those who focus on logic, rules, and reason while fighting for the greater good. Under his sage guidance, the empire will be stand strong once more. If player want to pursue a strategy of going tall and a relatively peaceful playthrough, Kong Rong is one of the best choices.
Playing as Kong Rong is a relatively peaceful experience, with him favouring a pacifist playstyle that rewards peaceful trade as well as spreading education and knowledge. For Kong Rong, knowledge is power. His strategy is to seek out information and education to beat the enemy, not stoop to bloodshed as a first resort.
The Three Kingdoms has the new system Trade influence for all factions that determines how much they benefit from a trade agreement, and one that is particularly important for Kong Rong. Trade income is determined by comparing the relative trade influence of the two factions – the more trade influence you have, the more of the shared pot will flow to you as income. In short, the more trade influence you have, the more you'll benefit from trade agreements.
As a master in the art of trade, Kong Rong has two unique ways to further boost his trade influence: by maintaining high population numbers, and with a unique deal in diplomacy that further increases the strength of his web of trade relations.
This means that Kong Rong doesn't necessarily need to expand very far and can instead ally himself with warlords with more expansive territories by forging lucrative trade agreements and using the resulting wealth to further build up his existing settlements. Large settlements mean more prestige as well as wealth, allowing him to go to war if he must but also enabling him to win the campaign with a relatively few territories under his command if he so chooses.
Pending for finalized Attributes and traits data
Pending for finalized skills data
Pending for finalized retinues data
Pending for finalized ancillary data

Kong Rong's campaign begins with him fighting against the Yellow Turbans from Beihai commandery, his base of operations. After capturing Beihai livestock farm and conquering the commandery in one swift blow, Kong Rong has a difficult choice to make.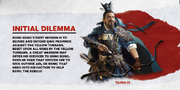 Kong Rong's first mission is to secure and defend Qing Province against the Yellow Turbans. Beset upon all sides by the Yellow Turbans, a great warrior named Taishi Ci could offer his services to Kong Rong. Kong Rong could send him off requesting outside aid or bring that hero into the faction for repelling the rebels.
Born in the former Lu state, Kong Rong was a resourceful young boy. When he grew older, Kong Rong entered the bureaucracy of the Eastern Han dynasty.
As a brilliant politician and scholar, he was successively promoted and became chancellor of Beihai commandery in Qing Province, which was invaded by the Yellow Turban rebels. After a few years showing his worthiness at Beihai, the people had become devoted to Kong Rong – they say that he's an honest man, and an educated and determined leader.
Kong Rong is said to be a descendant of Confucius. Famed for his quick wits and elaborate literary style, Kong Rong was ranked among the Seven Scholars of Jian'an, a group of representative literati.
Armed with a dangerously sharp tongue, Kong Rong is near constantly opposed to Cao Cao in his political views, often coming up with inventive ways to insult him. This included trying to persuade Cao Cao that he was not powerful enough to defeat Yuan Shao.
Despite his intellectual sabre rattling, Kong Rong's main focus is on wisdom and learning – he believes in intelligence and analysis to win the war. The bureaucracy of China can only succeed through the support of education. Therefore, Kong Rong concentrates on reconstruction of the city and the establishment of schools.
Now, as chaos consumes China yet again, Kong Rong knows that only though knowledge and insight will prosperity prevail once more.[1]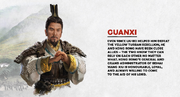 Even since Liu Bei helped him defeat the Yellow Turban Rebellion, he and Kong Rong have been close allies – the two know they can rely on each other no matter what. He can also recruit the legendary warrior Taishi Ci.
Kong Rong's general and Grand Administrator of Beihai Wang Xiu is honourable, loyal, and always willing to come to the aid of his lord.
In early build of the game, Kong Rong is one of the faction leader that doesn't have unique Faction resource. His unique resources was added in later build and revealed in livestream one month before the release.
Community content is available under
CC-BY-SA
unless otherwise noted.