Liu Biao is a Chinese name; the family name is Liu.

For the faction, see Liu Biao
Liu Biao is a playable and historical character featured in Total War: Three Kingdoms. Nicknamed the Gentleman of the Han, he is the default leader and one of the Commander class heroes in his faction.
Description
Edit
Liu Biao is widely known as a lover of scholarly pursuits and holds a great appreciation of etiquette and nobility. Nicknamed the Gentleman of the Han, he serves the Han with an unwavering sense of duty, hoping that the chaos will subside and the status quo be preserved.
Liu Biao is the choice of the player who seek wisdom, knowledge, and clarity of thought to take the right decisions and bring peace back to this chaotic land. The lands are beset by conflict and he must restore order; Liu Biao is a man who views wisdom and experience as the sword and shield with which to protect the realm.
Liu Biao's focus on academia and intelligence defines his playstyle. He offers a safe haven to nobles and gentry, and as such, he values sophistication, knowledge, and harmony. This grants him unique scholarly court positions (Student, Tutor, Scholar) that increase experience gain for these and all characters in his faction, and his unique building chain (Lodging and Tea Gardens) can further increase experience gain.
Liu Biao's bonuses to character growth can offer the player a path to employing high ranking generals earlier in the game than other Warlords. Meaning, although not a significant military force at the outset, Liu Biao can use this strategy to compete with the more military-minded warlords on the map.
Liu Biao also starts in a relatively secured diplomatic situation, being the master of two vassals: Cai Mao and Huang Zu. These vassals occupy land to the south of him and offer valuable support in shoring up his southern borders. A calm and steady hand at the wheel, Liu Biao offers a public order bonus to his lands while faction leader, and a satisfaction boost to all characters under his control.
General Information
Edit
Attributes and Traits
Edit
Main article: Attributes (Total War: Three Kingdoms)
Pending for finalized Attributes and traits data
Main article: Skills (Total War: Three Kingdoms)
Pending for finalized skills data
Main article: Retinues (Total War: Three Kingdoms)
Pending for finalized retinues data
Ancillaries
Edit
Main article: Ancillary (Total War: Three Kingdoms)
Pending for finalized ancillary data
Game progression
Edit
Starting position
Edit

The game begins with Liu Biao in Xiangyang commandery in Jing province as the Governor of this province, an office given to Liu Biao by the great Han Empire. However, rebels are rising all around his territory. Liu Biao needs to bring them down, protect his people, and restore order to the commandery before going further. Only then can Liu Biao expand, moving closer to the territory of other warlords. Among them, Yuan Shu and Sun Jian may be the first he has to deal with.
Liu Biao's age is very old in the early game, so when playing as him the player need to be careful who to select as Liu Biao's heir. Liu Biao's sons, though his flesh and blood, sadly don't show the same level of promise that their father did at their age, and the player may need to look outside of Liu Biao current family to secure his legacy.
Initial Dilemma
Edit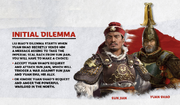 Liu Biao's dilemma starts when Yuan Shao secretly send him a message to take the Imperial Seal back from Sun Jian. The player will have to make a choice: Accept Yuan Shao's request and attack Sun Jian, which will trigger a war against Sun Jian and Yuan Shu, his ally. Liu Biao can also ignore Yuan Shao's request, risking angering him in the north.
The choice of this dilemma will have a big impact on the immediate situation in this central area with Sun Jian, Liu Biao, and Yuan Shu. Ignoring Yuan Shao will mean that the situation is calmer, but his potential enemies will have the ability to grow much stronger as well. Attacking Sun Jian on the other hand will mean a difficult start, but with great opportunities awaits.
As the ruler of Xiangyang commandery, the player needs to unite this commandery by conquering regions that were lost to rebels. Afterwards, Liu Biao will have difficulties expanding and he needs to pick his enemies in a smart way. If he does not go to war with Sun Jian and Yuan Shu, The player might have to think about cutting Liu Biao loose from the Han Empire, or potentially focus on building up Xiangyang before making further steps and expand his realm.
Biography
Edit
Main article: Timeline (Total War: Three Kingdoms)
Esteemed academic Liu Biao is known as one of the Eight Geniuses of Jiangxia: a group of scholars during the later Han era. Being the Governor of Jing Province, he's a smart and charismatic man with an appreciation of etiquette, nobility, and the finer things in life. A man seldom ruffled, Liu Biao demonstrates his aristocratic pedigree through stable officiality.
Though the Han crumbles, its spirit and legacy endures through its many branches and descendants. Liu Biao holds this lineage closely, serving with unwavering sense of duty and prospering greatly during a time of peace. An accomplished administrator, and ever the traditionalist, Liu Biao wishes to preserve the status quo, earnestly hoping that the chaos will abate and reason will prevail. But times are changing, and Liu Biao must find his place in this new land, or fade forever into the mists of the forgotten…
Yet with change comes opportunity. Liu Biao is an exceptional Governor and has potential to be much more, provided he can adapt to this era of conflict. If he succeeds in exercising his authority on Xiangyang commandery, he can lead his commandery to a time of stability in this chaos. Using that as his foundation, it may only be a matter of time until he can restore peace to all of China.[1]
Main article: Guanxi
Liu Biao starts the game with the support of his close friend, Huang Zhong, a brave and wise elderly general. Despite his age, Huang Zhong is still a more than capable warrior and one of the greatest archers around, something he is keen to prove whenever the opportunity presents itself.
Liu Biao also has the support of his sons, Liu Qi and Liu Cong. As time goes by, they should be given greater responsibilities to carry on Xiangyang administration. However, it is known that Liu Biao puts more trust in Huang Zhong than either of them. While Huang Zhong's age makes him unsuitable for an heir, some say that Liu Biao is already looking to others to pick up the mantle.
Liu Biao also starts in a relatively secured diplomatic situation, being the master of two vassals: Cai Mao and Huang Zu.
Reference
Edit
Community content is available under
CC-BY-SA
unless otherwise noted.