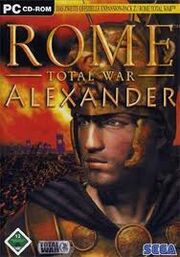 Rome: Total War: Alexander is the second expansion for Rome: Total War that was released on June 19, 2006. It included a campaign, 6 historical battles, and new multiplayer options. The main task of the game is to accomplish what Alexander the Great did, in a similar time period. The goal in the game is to conquer 30 provinces in 100 turns. If Alexander is killed, or you fail to take 30 provinces and all the victory settlements, the campaign will fail. All nations start at war and are unable to broker peace due to diplomats being unavailable in the campaign.
The expansion is bundled in with Total War: Rome Remastered, but unlike Barbarian Invasion, the other expansion to Rome: Total War, Alexander has far fewer changes other than the standard HD units, map texture, etc. You are still unable to recruit diplomats as well as the new merchant that was added in the remaster and no other factions are unlocked to play in the campaign. There is no extra campaign either to play the expansion like a traditional Total War game, it's locked to just Alexander's Macedon as the sole playable faction, though they are all playable in skirmish battles.
Factions
[
]
The factions in Rome Total War: Alexander are:
Historical battles
[
]
Like the base game, Alexander features historical battles. There's a total of 6 battles, which feature set armies and factions on a specific map, designed to recreate the real famous battle. The battle list is as follows:
Trivia
[
]
The expansion uses the base game skirmish maps for custom battles rather than just using a pool for the regions featured in the expansion. This means a battle could be set up between the Persians and Indians fighting in the Scottish Highlands, something that would never happen in real life.
All the barbarian factions have the same unit roster. For this reason, only Dahae is playable in custom battles, as having the others playable would be identical to Dahae.
While the Greek City States are technically in the expansion, they only feature in a historical battle and are not playable through any other means.
India is the only faction to be playable in skirmish but not be featured on the campaign map, making them skirmish exclusive.
Gallery
[
]