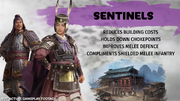 Sentinel is one of the five default hero class in Total War: Three Kingdoms. Sentinels are your best bet when it comes to tying down enemies, they can last for ages in combat with either regular troops, or heroes.
Description
Edit
Sentinels are strongly defensive characters and excel at locking down enemy generals and holding the line. Expertise is the Sentinel's key attribute, aiding their melee evasion chance in battle and reducing construction costs in any commandery that are assigned to administrate. The key expertise-based skills in their skills tree improve their melee evasion, ranged block chance, and melee damage capabilities. Sentinels work well when grouped with polearm and melee infantry.
Main article: Hero (Total War: Three Kingdoms)
Sentinels are artists and builders and are stout in battle, able to lock down choke points and enemy heroes as well as inferring their defensive skills on their infantry.
General Information
Edit
List of Sentinel characters
Edit
Community content is available under
CC-BY-SA
unless otherwise noted.