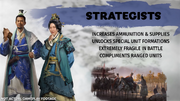 Strategist is one of the five default hero class in Total War: Three Kingdoms. Strategists are not great in combat but can debuff enemies and provide extra formations for player's troops. They also provide bonus to ranged units.
Main article: Hero (Total War: Three Kingdoms)
Strategists unlock formations units in their army based on their rank. Cunning is a Strategist's key attribute, improving the ammunition of their retinue and boosting his army's military supplies. Strategists are the only characters capable of recruiting siege weapons. Strategists cannot duel. They are usually fragile in combat but is able to debuff enemies by unlocking the appropriate class-specific skills.
Outside battlefield, strategists have access to assignments for +75% commerce income in local commandery or -50% corruption and +10 satisfaction depending on their skill choice. For administrators, strategists can boost industry and commerce income depending on their skill choice -- although commandery income skills are mutually-exclusive to battle skills.
Strategists with high Cunning are the cores of range-focused armies. By fielding siege weapons such as Trebuchet, armies can out range enemies, allowing one to deal damage without taking damage in return and will prompt AI opponents to advance on prepared player defenses. Without the high Cunning of Strategists and the Brilliant trait which only some Strategists start with, range units are significantly inhibited by their limited ammunition. Strategists further support their range retinues by enabling fire arrows and fire shots, which in turn enables more tactics such as damaging enemies and hurting their morale by burning the forest they are traversing through. Siege weapons also allow armies to assault a walled city without waiting. More important in sieges, siege weapons can burn down enemy arrow towers from the safety of distance, which would otherwise be a source of great damage to own units.
Strategists and retinues of strategists by themselves are weak to melee combat. A strategist is thus best paired with a Champion who can provide anti-cavalry protection with their pole-arm infantry and a strong melee and dueling support in themselves.
A player who pursues a range focus strategy may consider b-lining for the Silk Road reform, which unlocks Onyx Dragon. Onyx Dragon is arguable the best range unit in Three Kingdoms aside from siege weapons with superior range, high damage output, great accuracy (useful for close support), and high ammunition base.
On a different note, trebuchet is worth investing in early despite of its high cost. The high cost can be offset by having a lean non-range component and by expanding quickly in the first few turns. As trebuchet units level up, their accuracy improves significantly and thus their general usefulness as player progresses into the late game.
The cost of siege weapons and the general usage of range units make strategist-centered range-based armies somewhat opposite of cavalry-based armies, which seek to defeat enemies with shock damage. In early game, the relatively small economy of starting factions will probably only afford one of the two but not both at the same time. This is especially true when considering friendly fire. Archers, though having advantage of being available early game and inexpensive, do not have the accuracy even at level 10 to differentiate enemies and friendly cavalry charging towards enemies.
Outside battlefield, the preferred income boosting assignments are agriculture for some factions in early game and industry for all other situations. Strategists have access to neither. As well, sentinels do have access to the same administrator skills as strategists while also providing much better reduction to construction costs through their high Expertise. (Only sentinels have access to industry income boosting assignments and only sentinel can reduce construction cost and time.) Thus, usually, strategists are second-choices behind sentinels for administrator positions and for doing court assignments. Thus, it is safe to invest in only battle skills for strategists primed for battle since early game. Later it can be worthwhile to hire a strategist who already unlocked Reward the Filial & Incorrupt skill in order to boost income in a high income commandery. The +10 satisfaction can be useful at times as well.
List of Commander characters
[
edit
|
edit source
]
Community content is available under
CC-BY-SA
unless otherwise noted.