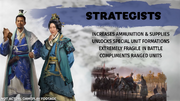 Strategist is one of the five default hero class in Total War: Three Kingdoms. Strategists are not great in combat but can debuff enemies and provide extra formations for player's troops. They also provide bonus to ranged units.
Description
Edit
Strategists unlock formations for units in their army and are able to severely impair the efficiency of enemy units and characters in battle by unlocking debuff abilities in their skills tree. Cunning is a Strategist's key attribute, improving the ammunition levels in his retinue and boosting his army's military supplies. Strategists are the only characters capable of recruiting artillery. They are fragile in combat and cannot duel. They are best stationed with ranged units.
Main article: Hero (Total War: Three Kingdoms)
The strategist brings agile and lethal formation to his forces, and can outwit any rival will annihilate your opposition in a hail of arrow fire and artillery.
General Information
Edit
List of Commander characters
Edit
Community content is available under
CC-BY-SA
unless otherwise noted.