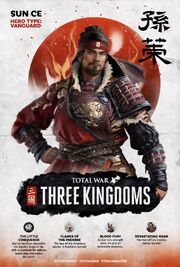 Sun Ce is a playable and historical character featured in Total War: Three Kingdoms. Nicknamed Little Conqueror, He is one of the Vanguard class heroes in Kingdom of Wu and faction leader in the 194 start date.
Description
[
]
Meet Sun Ce, eldest child of warlord Sun Jian and brother of Sun Quan and Sun Ren. Although relatively young, he has proven himself a fearless warrior, talented commander, and ambitious general. Famed for his military victories in Jiangdong that laid the foundation for the Kingdom of Wu, he's very much earned his nickname the "Little Conqueror".
Overview
[
]
Sun Ce starts as a Vassal to Yuan Shu, looking to expand south of the Yangtze with the help of his old father's generals and childhood friend Zhou Yu he can conquer and defeat other warlords south of the Yangtze with tremendous luck. Can Sun Ce's luck last forever or will he be forsaken?