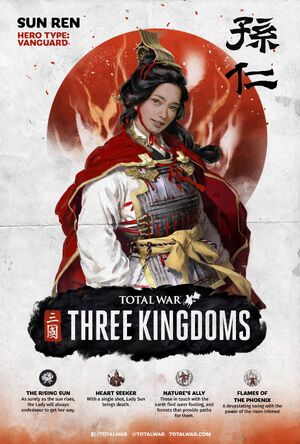 Sun Ren is a playable and historical character featured in Total War: Three Kingdoms. She is one of the Vanguard class heroes in Kingdom of Wu.
Meet Sun Ren, daughter of warlord Sun Jian and younger sister of Sun Quan and Sun Ce. Fiercely determined, eager to prove herself on the battlefield like her brothers, and skilled with blade and bow, Lady Sun is a force to be reckoned with.
The Rising Sun (Campaign Ability)
Heart Seeker
Nature's Ally
Flames of the Phoenix
Main article: Guanxi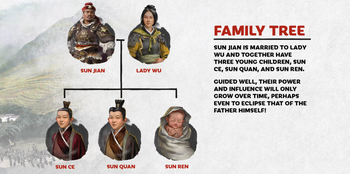 Sun Ren is the third child of her father Sun Jian and her mother Lady Wu, and she has two brothers Sun Ce and Sun Quan.
Sun Ren is mostly known as Sun Shangxiang in other entertainment media related to the Three Kingdoms period.
She is also featured in Creative Assembly's E3 2018 debut show as part of the first ever playable demo for the game, The Ambush of Sun Ren.
Sun Ren is an infant when the campaign begins, and so it will be many years before she's ready to serve her family's cause. (Turn 87)
Community content is available under
CC-BY-SA
unless otherwise noted.