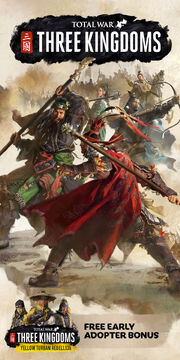 Total War: Three Kingdoms is the next major historical title in the Total War series, developed by The Creative Assembly. It was announced on January 10, 2018, and scheduled to be released on March 7, 2019. The game is set in China during Three Kingdoms era.
The game features two game modes. The first mode, "Romance", is based on the highly romanticized account of the era, Romance of the Three Kingdoms, in which generals are gifted with nearly superhuman strength. Another mode, "Classic", based on Records of the Three Kingdoms, presents a more historically accurate version. In Classic, the generals have their powers removed and they can no longer be commanded separately.
The game begins in 190 CE, in which the once glorious Han dynasty is on the verge of collapse. The enthroned child Emperor, Xian, was manipulated by the warlord Dong Zhuo, at the age of eight. Dong Zhuo's oppressive rule leads to chaos. New warlords rise and form the coalition to start the campaign against Dong Zhuo. However, with each warlord having personal ambitions and constantly shifting allegiances, the player need to utilize strategy and tactics to unify China and write our own history.
Battle mechanics
Edit
Campaign mechanics
Edit
Game progression
Edit
Art design
Edit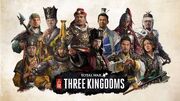 The game features 11 playable factions at launch, without counting DLC characters. Each faction is led by a warlord.
Development
Edit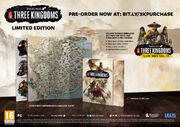 When The Creative Assembly start to develop the next historical title for the Total War series, they're very keen about creating something around characters. Similar to role-playing Napoleon or Alexander in the previous title. After inspired by those character-centric games, Creative Assembly ended up finding the Three Kingdoms period, which has a lot of records on character development and potential larger than life characters available for each factions.
When CA did the research and found out four thousand characters were available in the time period, they stopped considering anything else and processed to look at other research materials like the epic historical novel Romance of the Three Kingdoms and also Records of the Three Kingdoms as well.
The Creative Assembly then created a couple of hundred characters with names and unique personality traits and 35 to 40 characters with very unique art in the game. The developer also add character development into the game, for example, Xiahou Dun gets the eyepatch after losing his eye in the battle which will trigger a specific cutscene.[1]
Marketing
Edit
The game features three version at launch.
Reference
Edit