Xiahou Dun is a Chinese name; the family name is Xiahou.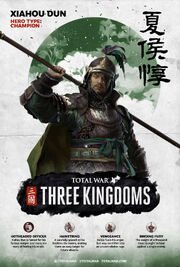 Xiahou Dun is a playable and historical character featured in Total War: Three Kingdoms. He is one of the Champion class heroes in Kingdom Wei.
Description
Edit
Xiahou Dun is a legendary one-eyed General fiercely loyal to Cao Cao. In a battle against Lü Bu's forces in the late 190s he was hit in the eye with a stray arrow. He proceeded to yank the arrow out, devour his own eyeball, then charge towards the enemy General, Cao Xing, killing him on the spot.
How to Acquire
Edit
Xiahou Dun starts in Cao Cao's army by default however it is possible to recruit him as another faction via methods such as marriage or, if Cao Cao's faction has been destroyed, as a random canditate in the Court menu.
Community content is available under
CC-BY-SA
unless otherwise noted.