For the warlord pack, see Yellow Turban Rebellion Warlord Pack
For the generic rebel faction in Total War: Three Kingdoms, see Yellow Turban Rebellion (faction)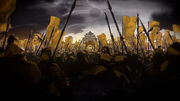 The Yellow Turban Rebellion was a peasant revolt in China against the Han Empire. The Rebellion force are often stylized as the Yellow Turbans. The uprising broke out in 184 AD during the late year of the Han dynasty. Although the main rebellion was suppressed in a year by 185 AD, pockets of resistance continued and smaller new rebellions were started in later years. Thus, it took 21 years the uprising was fully suppressed by 205 AD.
In the Total War: Three Kingdoms, Yellow Turban Rebellion is considered a sub-culture with respective faction leaders. The factions have unique unit roster and different tech trees in comparison to the factions in the base game.
The Yellow Turbans' beliefs blend Taoism and shamanistic principles, and these spiritual aspects are a recurring theme throughout their faction gameplay. Many of their features relate to the three Taoist domains of Land, People and Heaven, or the Three Treasures (or virtues) of Taoism: Frugality, Compassion, and Humility.
Reflecting these concepts, the playable Yellow Turban factions are led by the characters He Yi (People), Gong Du (Land) and Huang Shao (Heaven). Each has their own playstyle and unique bonuses.
Yellow Turban factions construct a mix of adapted Han buildings and their own unique structures. Their technology tree is divided into three scrolls from the Book of Great Peace, each of which references the three Taoist domains and contains verses of Taoist scripture. It is structurally and mechanically very different from the default tech trees used by other factions.
Playable Yellow Turban factions improve their Faction Rank as their campaigns progress. These represent the journey to enlightenment, the achievement of The Great Peace, regaining the Mandate of Heaven, and appointing a just Emperor. Progression requires the player to study the verses in the Book of Great Peace, construct religious building in their settlements and improve the virtuous characteristics of the characters under their control.
Community content is available under
CC-BY-SA
unless otherwise noted.