Zhao Yun is a Chinese name; the family name is Zhao.
Zhao Yun is a playable and historical character featured in Total War: Three Kingdoms. He is one of the Sentinel class heroes in his faction.
Zhao Yun first began his military career under Gongsun Zan and served him until Cao Cao declared war on Tao Qian of Xu Province following the death of his father Cao Song. Zhao Yun went with Liu Bei to fight Cao Cao's forces with Gongsun Zan's permission. He remained in Liu Bei's service and helped him in many ways such as stirring rebellions against Yuan Shao.
Zhao Yun has a steadfast sense of moral duty and will always do what he thinks is right, no matter how dangerous. As a charismatic and skilled warrior, Zhao Yun fights for justice, and will follow none but the most righteous of warlords.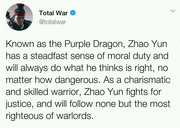 In the initial reveal post, Zhao Yun's nickname Zilong (子龙; lit. Mr.Dragon; Pinyin: zi lóng) is mistranslated as homophonic Zilong (紫龙; lit. purple dragon; Pinyin: zi lóng) by The Creative Assembly. The mistake was quickly fixed afterwards.[1]
Community content is available under
CC-BY-SA
unless otherwise noted.